Dental Health Tracking Tips from Norlane Dental Aesthetics and Implants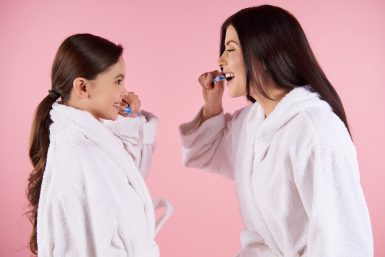 As the beginning of August rolls around, Norlane Dental Aesthetics and Implants would like to remind our patients about Australia's Dental Health Week.
Dental Health Week, 5th-11th, is a week dedicated to the idea that all Australians should pay just a little more attention to their oral hygiene and dental health.
This year's theme is "How's Your Oral Health Tracking?" which contains two questions in one.
The first question is, how is your oral health doing, and the second is how are you keeping track of it?
And both questions are important in this hustle-bustle world in which we live, in which it is easy to lose track of 'small' things like oral hygiene and dental care.
And keeping track of your oral hygiene is particularly tricky in two age groups – children and seniors.
So, this Dental Health Week, your friends at Norlane Dental Aesthetics and Implants are going to talk a little bit about how to make sure the dental health of seniors and children stays on track, and how you might help!
Dental Health Week and Children
Children don't necessarily come with good habits and strong powers of concentration built-in, to say the least!
But by tracking the oral hygiene habits of your child, and adjusting them when needed, you can give them the basis for a lifetime of oral health.
Dental Health Week is a great time to introduce your children to oral hygiene. The Dental Health Week website has colourful and printable posters that have particular relevance to children.
The posters talk about dental health for children, and two posters focus on the dangers of acidic and sugary drinks like soda pop.
This is particularly important when you realise that an astounding 73% of young people (14-18 years) are consuming too much sugar, and much of that comes in liquid form –
The information also contains helpful hints for parents:
Start a child's oral hygiene early. Brush gums even before a tooth appears.
Make brushing entertaining with music, videos, or smartphone apps.
Spit out excess toothpaste, do not rinse out the mouth with water.
Don't use too much toothpaste. A dab is all you need.
Start a child's dental visits early. Before age one, or as soon as the first tooth erupts.
Be positive when visiting the dentist.
Most important, be certain your children develop good dental habits at a very young age and help them do so by modelling good behaviour and tracking!
Follow their progress with a chart or calendar and reward them when they reach important goals. Their smiles will thank you for the rest of their lives!
Dental Health Week and Seniors
As we age, decay, infections, and bacteria that in teeth, gums and mouth can become serious problems that hare overall health and appearance.
Here are some issues that pop up as we age:
Darkened teeth. The darkening can be a natural change in dentin, but a darkened tooth can also be a sign of a more severe problem.
Dry mouth. The result of reduced saliva flow and medicines that can cause dry mouth.
Diminished ability to taste.
Root decay. Tooth roots are exposed as gums recede.
Gum disease.
Tooth loss. Most often caused by gum disease.
Uneven jawbone. Most often caused by missing teeth that are not replaced.
An overgrowth of the fungus Candida albicans in the mouth.
Denture-induced stomatitis. A fungal buildup under dentures caused by poor dental hygiene or poor-fitting dentures.
Oral cancer rates increase, even in patients who no longer have teeth (so, it is important to keep up regular dental visits).
And these threats are made worse by some underlying issues that accompany aging.
Decreased regular hygiene. As we age, our habits and abilities may change. Notably, we may lose manual dexterity, which reduces how efficient our brushing and flossing are.
We may also have reduced access to transportation, which makes it more challenging to reach the dental office.
Finally, incomes and dental insurance may decrease, making it more difficult to afford required dental service.
Memory. Memory issues associated with aging can make it harder to keep track of oral hygiene. In this case, a family member or caregiver may be called on to keep track of oral health.
For children and seniors, 'tracking' dental health is a key part of keeping it. If you have any questions, Norlane Dental Aesthetics and Implants is happy to help you "get on track"!
Dental Health Now at Norlane Dental Aesthetics and Implants!
At Norlane Dental Aesthetics and Implants, we believe everyone deserves the highest quality dentistry, and we deliver it.
We are a multi-surgery dental practice Norlane, which has operated for over 30 years. Our focus is on giving patients exceptional general, orthodontics and Implant dentistry.
We have a particular interest in implants, orthodontics and smile rejuvenation via veneers and crowns and bridges, while also dealing with the unexpected dental emergencies we all dread.
FREE Kids Dental
Consultation Medicare Bulk Bill for eligible children (up to $1000)
To book an appointment with us, call (03) 5278 2666 or book your appointment online.
We are located at 21 Princes Highway in Norlane.