Sedation Dentistry Norlane Geelong
Sedation dentistry is used to help provide a relaxing and anxiety-free experience for people who receive dental treatments.
This helps those who are too afraid to go to the dentist to receive the dental care they need while avoiding dental phobia.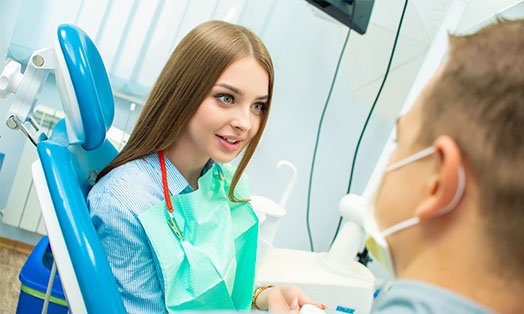 Levels of Sedation
Minimal sedation – the patient is completely awake but relaxed.
Moderate sedation – the patient may slur their words and may not remember much of the procedure.
Deep sedation – the patient is on the edge of consciousness but can still be awakened.
General anaesthesia – the patient is completely unconscious.
Benefits of Sedation Dentistry 
Overcome fear and anxiety
Your Norlane dentist helps patients overcome dental fear and anxiety.
Even if your past experiences kept you from the dentist for a long time, there is no need to be worried.
You can be assured in knowing that Norlane Dental Aesthetics and Implants offers a comfortable, anxiety-free visit for patients just like you.
Ease of treatment
Whether you have problems with a gag reflex or sensitive teeth or gums, sedation allows your Norlane dentist to perform procedures without the stress you may be used to experience.
With a relaxed patient, the treatment is easier for us as it allows you to rest, allowing us to focus solely on the procedure.
Comfort and rest
Do you want to feel at home and comfortable with your dentist? It happens every day with us at Norlane Dental Aesthetics and Implants through sedation dentistry.
Sedation dentistry allows you keep calm during your treatment.
Fewer appointments
If ever you need a tooth filled, gum disease treatment, cosmetic procedures or chipped tooth repair, you'll be amazed at how much dental treatment can be done while you are sedated.
More extensive procedures that generally require multiple visits may be completed in as little as one appointment with sedation dentistry.
Sedation Dentistry in Norlane Geelong
Sedation dentistry – your anxiety-free dental care option!
For more information about sedation dentistry in Norlane, call us on (03) 5278 2666 or request your appointment online.
We are located at 21 Princes Highway in Norlane.
Frequently Asked Questions
Is sedation dentistry safe?
There is always a risk of getting anaesthesia. It is usually safe, though, when given by experienced dentists.
How long does it take for the sedatives to wear off?
The effects of the sedative will gradually wear off during the day. Mostly, patients can return to their normal activities within 24 hours, depending on the nature of their work.
Am I a candidate for sedation dentistry?
Any sufferers who experience dental fear are good candidates for sedation dentistry.
If you have any fears or concerns, visit Norlane Dental Aesthetics and Implants about sedation dentistry as an option for your dental therapy:
Extreme dental fear of visiting the dentist
Fear of needles
Traumatic experience with a dental procedure in the past
Can't handle the smells or noises at a dentist's office
Sensitive teeth, strong gag reflex, or problems getting numb
Require a more complex dental treatment
Feel conscious about your teeth
Wish to have a more comfortable dental treatment