Porcelain Veneers and Crowns
Restore your teeth and improve your smile with porcelain veneers and crowns at Norlane Dental Aesthetics and Implants!
Dental veneers (also called porcelain veneers or porcelain laminates) are wafer-thin, custom-made shells of tooth-coloured materials made to protect the front surface of teeth and enhance the appearance of your smile.
These shells are attached in front of the teeth changing their colour, shape, size, or length.
Porcelain veneers resist stains better than veneers made of resin, and better copy the light-reflecting characteristics of natural teeth.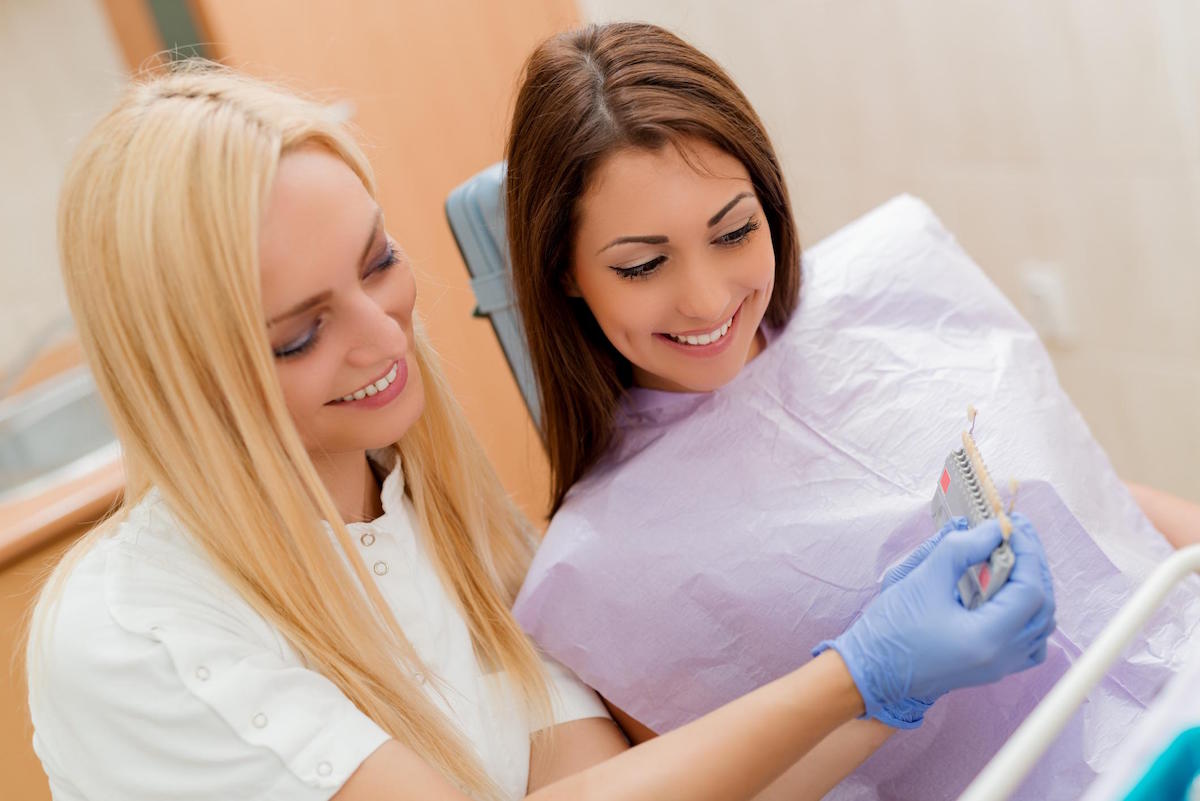 Types of Problems Porcelain Veneers Fix
Veneers are used to fix:
Discoloured teeth (because of root canal therapy; stains from certain drugs, excessive fluoride; or the presence of large resin fillings)
Worn-down teeth
Chipped or broken teeth
Misaligned, uneven, or irregularly shaped teeth (for example, teeth that have craters or bulges in them)
Gapped teeth (to close the space between these teeth)
Porcelain Veneers Procedure
The first step is a consultation. During the consultation, your Norlane dentist will examine your teeth, assess your case, advise on options and provide you with a treatment plan. Photos, X-rays and a dental impression your teeth will also be taken during your consultation.
On your next visit, your Norlane dentist will create a model of the planned veneers to show you the possible outcome. If you like and approve the model, your dentist shall proceed to the next step.
When all the teeth are prepared, your dentist will take an impression of your teeth. The impression will be sent to a dental laboratory for the fabrication of your porcelain veneers.
While waiting for your veneers, your dentist will have you wear temporary veneers to protect your teeth and to prevent sensitivity.
Using the impressions, the dental laboratory will fabricate your veneers by layering and building up multiple layers of porcelain.
When the veneers are ready, your Norlane dentist will prepare the surfaces of your teeth. Each tooth is individually coated with a bonding agent.
Dental cement is applied on the back of the veneers before attaching it on each tooth. Each veneer is cured to harden the cement and to fix the porcelain veneers permanently on the teeth.
Porcelain Crowns
Dental crowns are tooth-shaped caps that are installed over teeth to replace the entire outer portion of the tooth to improve its appearance or function.
While there are many different kinds of dental crowns, your Norlane dentist recommends porcelain crowns because they can be coloured and shaped to closely match your natural teeth.
Benefits of Porcelain Crowns
Your Norlane dentist recommends choosing porcelain crowns because they:
Restore a tooth's function
Improve a tooth's aesthetic appearance
Create a natural appearance
Repair damaged teeth
Porcelain Crown Procedure
Porcelain crowns are custom-made in a dental laboratory and attached to the front of teeth.
The tooth to be treated is cleaned, reshaped, and prepared. The tooth is also tapered so that the crown can fit on top of the affected tooth.
An impression of the tooth is taken using dental putty. The mould is sent to the laboratory for fabrication of the new crown. While waiting for the new crown, you will wear a temporary crown. A period of two to three weeks is needed for the crown to be prepared.
After this period, the tooth is fitted with the new crown. For this, the dentist roughens up the surface of the affected tooth with the help of etching acid, which helps the crown hold to the tooth.
After the desired fitting is achieved, the crown is fixed with the help of dental cement.
At-home Care for Porcelain Veneers and Crowns
It's surprisingly simple to keep porcelain veneers and crowns beautiful and durable for a very long time. They need the same dental hygiene as natural teeth, such as proper brushing at least two times a day, daily flossing, and regular check-ups and professional cleanings from your Norlane dentist.
Porcelain Veneers and Crowns in Norlane Geelong
At Norlane Dental Aesthetics and Implants, we believe everyone deserves excellent quality dentistry and our goal is to help you achieve this. We provide effective and reliable cosmetic procedures to enhance your smile, including porcelain veneers and crowns.
Porcelain Veneers and Crowns in Norlane Geelong
For more information about porcelain veneers and crowns in Norlane, call us on (03) 5278 2666 or request your appointment online.
We are located at 21 Princes Highway in Norlane.
Frequently Asked Questions
How long will my porcelain veneers and crowns last?
Porcelain veneers and crowns should last for many years; but they can chip or break, just like your own teeth can. Our dental team will tell you how long each veneer or crown should last. Small chips can be fixed, or a new veneer or crown fitted if necessary.
Will my veneer/crown be noticeable?
Porcelain veneers and crowns are fabricated to match your other teeth closely. The shade of the surrounding teeth will be recorded, to make sure that the colour looks natural and matches those teeth.