Dental Tips: What are All-on-4 Dental Implants and When Do I Need Them?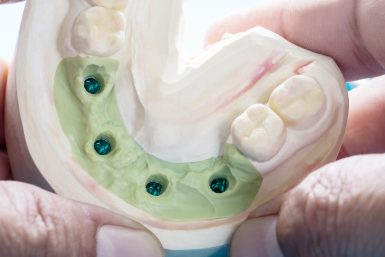 Can only four implants replace all of the teeth (or conventional dentures) on the top or the bottom jaws? Thanks to technological advances in dental implant technology, that answer is now a yes, And Norlane Dental Aesthetics and Implants can do it for you!
Unfortunately, tooth loss is quite common in Australia, particularly as we age.
Shockingly, Australian adults aged 18 have a 5.5% chance of missing ALL their teeth.
Rather than living with the inconvenience of missing teeth or dentures, many Australians are turning to a treatment known as full mouth dental implant restoration or All-on-4 Dental Implants Norlane.
Let's take a look at this revolutionary new procedure at Norlane Dental Aesthetics and Implants.
Dental Implants
To understand how revolutionary All-on-4 Dental Implants are, you need to know a little about dental implants in general.
A dental implant is a small titanium screw that is placed into your jawbone, in minor surgery, replacing the root of a missing tooth.
Once the implant is stable in the jaw, a crown is attached to give you a highly realistic-looking and functional tooth. But if you are missing all your teeth, you must have an implant for each tooth.
All-on-4 Dental Implants take away the need for all of this surgery, healing, and the extended amount of time the process takes.
All-on-4 Dental Implants in Norlane
All on 4 Dental Implants Norlane are an implant-based alternative for dentures, that create a more natural-looking and long-lasting set of teeth. They are designed to replace a person's entire, either upper or lower set of teeth.
With All-on-4 Dental Implants, every lost tooth does not need to be surgically replaced. To replace all this work and expense, four pairs of titanium posts, two on each side, are surgically inserted into the jawbone.
These four implants will function as anchors, holding the rest of the appliance in place – in this case, a permanent denture. The result is more natural compared to individual denture replacements, and the appliance remains permanently in place.
If you have remaining natural teeth, the permanent dentures will align better and look more natural with the natural teeth.
The All-on-4® treatment concept is:
Full-arch rehabilitation with just four implants – two set straight up in the front of the jaw, and two rear implants tilted up to 45º in the rear.
Immediate functionality with a fixed provisional bridge.
Graftless process. The angled placement of the rear implants takes advantage of more bone, eliminating the need for bone transplants in most cases.
Care for All-on-4 Dental Implants
The good news about All-on-4 Dental Implants is that they do not require the kind of special care that dentures do – they can be treated like natural teeth, with twice-a-day brushing and flossing.
You do need to put in a little bit of effort and time, as food particles can get trapped where the implants are attached to the gums. Like regular teeth, they also need regular visits to your Norlane dentist.
How long do All-on-4 Implants last?
Many patients ask us about the longevity of All-on-4 dental implants.
The answer is a good one; All-on-4 Dental Implants are meant to last for a very long time with proper care. They can last up to 20 or more years, outliving dentures by a factor of 2-3, and without all the hassles that come with dentures.
Are they expensive?
We are often asked about the comparative expense of All-on-4 Implants.
While prices vary, the fundamental reality is that they are much less inexpensive than replacing a full mouth, or entire jaw, of teeth with individual implants.
And, unlike traditional dental implants which require multiple implants, multiple visits, multiple crowns and lengthy healing time, All-on-4 Dental Implants are often completed in just one dental appointment.
While there's no one treatment perfect for all lost teeth, and not all patients are good candidates for All-on-4 Dental Implants, they are certainly worth consideration.
If you are missing all your teeth, all your teeth in one jaw, or most of your teeth, give us a call. We'd be happy to provide you with a consultation!
Read more about the All-on-4® Treatment Concept at Norlane Dental Aesthetics and Implants
Quality Dentistry in Norlane
At Norlane Dental Aesthetics and Implants, we believe everyone deserves excellent quality dentistry, and our goal is to help you achieve this.
Norlane Dental Aesthetics and Implants is a multi-surgery practice which has operated for over 30 years taking care of the oral health needs of the community.
At Norlane Dental Aesthetics and Implants, our focus remains on providing patients with exceptional general, orthodontics and Implant dentistry.
We have a particular interest in implants, orthodontics and smile rejuvenation via veneers and crowns and bridges.
If you would like to know more, please contact us now for a consultation.
FREE Dental Implants Consultation
To claim your FREE All-on-4® treatment Consultation, call us on (03) 5278 2666 or visit us at 21 Princes Highway in Norlane.