CEREC Norlane Geelong
When you are having problems with your teeth, one of the worst parts of the experience can be making several trips to your dentist instead of getting everything done in one trip.
CEREC allows you to save more time and get better results by taking advantage of advanced technology to restore/repair your teeth with a crown, inlay, or onlay.
CEREC is the shortened term for Chairside Economical Restoration of Esthetic Ceramics or CEramic REConstruction. The CEREC technology uses CAD/CAM (computer-aided design/computer-aided manufacturing) to take impressions quickly and generate a precisely fitted filling so you can leave Norlane Dental Aesthetics and Implants sooner.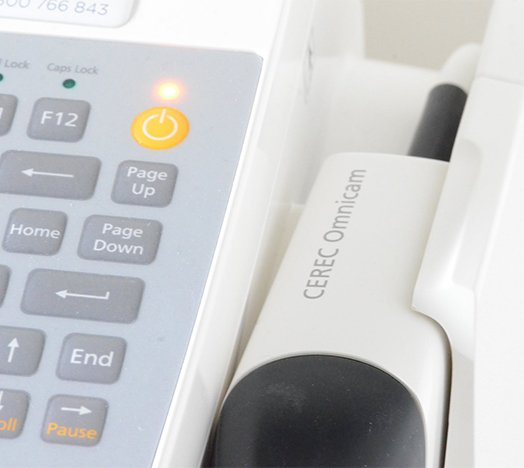 Benefits of CEREC Restorations
If you're searching for the pros and cons of opting-in for this method, we'll start with the benefits of CEREC Restorations:
The whole process only takes 2 hours.
Digital Impressions are made of your mouth in minutes.
Fabrication of ceramic restorations using our milling unit ensures accuracy & precision.
CEREC Restorations look & feel like a natural tooth.
There's no other type of restoration that can compete with a CEREC Restorations.
They can last up to 10-15 years; but if taken care of, they may last much longer.
No temporaries, no impressions, and less post-operative sensitivity.
How CEREC works
One of the greatest benefits of CEREC is its convenience.
You can get your teeth restored/repaired during a single trip to Norlane Dental Aesthetics and Implants.
The CEREC process allows you to receive your permanent restoration right here in our Norlane Geelong office, so you don't have to live for weeks with a temporary restoration and schedule another appointment.
In addition, your Norlane Geelong dentist and our team use digital impressions to make a mould for the filling. This is more comfortable and accurate than impressions with plaster.
CEREC restorations are able to withstand moderate chewing – yours will last for years. The lifespan of a CEREC restoration is longer than traditional restorations. In addition, the colour of CEREC ceramic is closer to the colour of your natural teeth, which will make your restoration virtually unnoticeable.
CEREC in Norlane Geelong
With the CEREC machine, you can always expect quick and efficient restorative dentistry from us.
Your Norlane Geelong dentist works hard to ensure you receive the best treatment possible. We are happy to discuss treatment plans and answer any pertaining questions.
CEREC in Norlane Geelong
Schedule your appointment online today or give us a call at (03) 5278 2666. We look forward to meeting you!
We are located at 21 Princes Highway in Norlane.
Frequently Asked Questions
Are CEREC Restorations durable?
CEREC restorations are made of the same type of material used with most lab restorations. A solid porcelain restoration can provide years of use, with many lasting for a decade or more.
Your Norlane Geelong dentist will provide you with care instructions and advice that will help you to ensure that you give your restorations the longevity they deserve.
Will my CEREC Restorations look natural?
Your Norlane Geelong dentist will use the CEREC technology to ensure that your new restoration is properly cast to fit perfectly within your mouth.
We will match the colour and hue to your other natural teeth, and placement of the restoration will be done with overall dental balance and natural appearance as a top priority.
When all is said and done, your CEREC Restorations will be virtually indistinguishable from your natural teeth.
How long will the scan take?
The typical CBCT scan lasts just under 9 seconds.