Useful Gift Ideas for Dad on Father's Day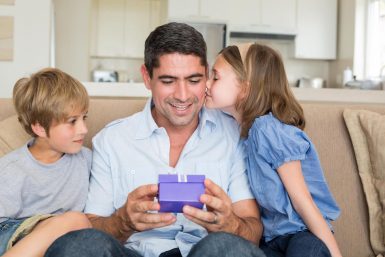 Father's Day (September 1st) is approaching fast.
With Father's Day comes the question of what to give the man who raised you?
This can be much harder than it seems as many Dads have already collected most of what they want, and men aren't that great at expressing their needs.
What they don't need is another 'traditional' gift, whether that is a tie, aftershave, comedy coffee-mug, or socks.
Norlane Dental Aesthetics and Implants, suggests you your dad the gift of improved dental health!
To help you in this task, we've put together a list of gifts that keep on giving – dental gifts that help your dad stay healthy and smiling.
We've broken our suggestions up by category.
For the dad who hates flossing
An obvious choice here is a Waterpik, which uses jets of water to get between teeth and clean them.
Waterpiks come with all kinds of technological bells and whistles, including different tips and adjustable water-streams.
Interdental brushes are an alternative to flossing.
They can be, like floss, used daily and studies suggest they can be more effective than floss at removing plaque between the teeth.
They are also super-convenient for Dads with flexibility or manual dexterity issues (e.g. arthritis). Give your Dad the gift of clean teeth and healthy gums!
For the road warrior
Does your Dad regularly travel for business, to hunt, or to camp?
If so, he's a good candidate for a dental travel kit. Ready-made kits can be found online on in stores, or you can create a customized kit taking into account your Dad's oral condition.
Include a travelling toothbrush, travelling toothpaste, floss, and a small bottle of mouthwash.
Add some over-the-counter pain medication, cotton pads, and latex gloves – which gives him what he needs in case of a dental emergency.
Include the phone number to Norlane Dental Aesthetics and Implants, so he can easily call us if he needs any advice or treatment!
For the sporty dad
If your dad plays sports, how about a custom mouthguard?
Any dad who is active in anything sports-related should probably have a mouthguard to help protect his jaw and keep his teeth from being knocked out.
This is an affordable and thoughtful gift of protection. You can learn more about mouthguards at Norlane Dental Aesthetics and Implants here.
For the "green" dad
Bamboo toothbrushes are effective, fight bad breath, and biodegradable. Because they are made of bamboo, they are also naturally anti-microbial.
Another eco-friendly option to consider is an innovative bioplastic manual toothbrush.
They have wide brush heads and soft bristles to distribute the brushing pressure. The heads are swappable and recyclable.
For the dad who doesn't like to smile
If your dad has dingy, cracked, missing, or otherwise unattractive teeth, we offer cosmetic treatments that can help.
Consider getting your Dad a gift certificate to help him get the treatment he needs.
Teeth whitening. Many things Dads like, such as coffee and tobacco products, stain or discolour their teeth. A Zoom Whitening treatment at Norlane Dental Aesthetics and Implants can help your dad whiten his teeth up to 6-8 shades. The treatment only takes one visit and can have stunning results.
Dental veneers. When fixed to the front of teeth, these thin "shells" of toothlike porcelain mask minor imperfections in a smile.
Smile design Norlane and makeover. If your dad needs multiple treatments, we can design a comprehensive plan that uses the treatments he needs, in an efficient and synergistic way.
If Dad has missing or damaged teeth, consider our restorative dentistry procedures. Our dentists are skilled at repairing problems like cracked teeth or broken crowns.
We can replace missing teeth with dental bridges or dental implants. We offer both partial and complete dentures.
For "green" dads
There are two good 'green' approaches in toothbrushes. First, a cutting-edge bioplastic toothbrush, and then an old-fashioned bamboo toothbrush.
A bioplastic toothbrush handle and packaging are partly constructed of bioplastic made from timber processing wood waste. The toothbrush biodegrades.
Bamboo toothbrushes are more traditional, and they contain charcoal, which can help fight bad breath.
Because bamboo is a naturally antimicrobial wood, a bamboo toothbrush fights bacteria growth.
Like the bioplastic toothbrush, the bamboo toothbrush is biodegradable. It is also vegan and cruelty-free, which is pretty green!
Dental Health Now at Norlane Dental Aesthetics and Implants!
At Norlane Dental Aesthetics and Implants, we believe everyone deserves the highest quality dentistry, and we are dedicated to giving it to you.
Norlane Dental Aesthetics and Implants is a multi-surgery practice that has been in operation for more than two decades. We give patients outstanding general, orthodontic, and implant dentistry.
We have a particular interest in implants, orthodontics and smile rejuvenation via veneers and crowns and bridges. We also provide quick and efficient emergency treatment.
If you would like to learn more about us, please contact us now for a consultation.
Norlane dentist also serves the local communities in Geelong, North Geelong, West Geelong, East Geelong, South Geelong, Corio, Lara, North Shore, Highton, Belmont and Little River.
FREE Orthodontics Consultation
For more information about our restorative dentistry services in Norlane, call us on (03) 5278 2666 or request your appointment online.
We are located at 21 Princes Highway in Norlane.