Can I Get Braces with Missing Teeth?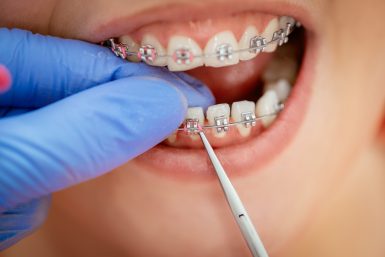 Because of technical and aesthetic improvement, braces are increasingly used by patients of all ages.
At Norlane Dental Aesthetics and Implants, we're all for this trend as we want our patients to have an attractive smile.
But sometimes, we have patients with multiple dental issues, including missing teeth, and they wonder if this will affect their ability to straighten teeth.
These worries can be put aside because braces can straighten the teeth of people with missing teeth and make it easier for them to restore their teeth eventually.
In many situations, orthodontics is recommended for patients with missing teeth.
Why Braces are Important?
Misaligned teeth are more than aesthetically unappealing. They are also unhealthy, leading to oral problems for patients of any age.
Traditionally, misalignment issues are identified during childhood and adolescence and treated at that time.
However, technological improvements and appearance mean braces are used more than ever by adults of all ages, including seniors.
Because of this, braces are the most common dental appliance used to straighten smiles – they can remedy crooked teeth, overcrowding, and gaps. They can also fix bite problems, including underbites and overbites.
But because braces shift the teeth or jaw, many people wonder what effect the lack of some teeth might have on the treatment.
Will teeth shift differently with artificial spaces between them, or will the lack of teeth remove anchors needed to hold braces in place?
Not really. And as we age, the likelihood of missing teeth increases dramatically.
Missing teeth add another dental problem that can reduce dental health, decrease functionality, and reduce the aesthetic appeal of your smile.
What Your Norlane Dentist Can Do?
Fortunately, your Norlane Dental Aesthetics and Implants dentist can help patients reduce or eliminate their dental misalignment while at the same time better preparing them for the eventual restoration of missing teeth.
When a tooth is gone, the other teeth around it can move or change position, like twisting, tilting, caving, or shifting into the space where the missing tooth used to be.
The results of these movements include periodontal, functional, and aesthetic problems, most of which only worsen if left untreated. Braces can prevent or repair this.
Braces can also give your existing teeth proper alignments, which will help your Norlane dentist restore your missing teeth when that time comes.
The first thing to do to figure out the right treatment plan is to set up a meeting with your dentist at Norlane Dental Aesthetics and Implants.
If you have a missing tooth, Norlane Dental Aesthetics and Implants will work their eventual replacement into the design and installation of your braces.
We consider any future treatments and how to design your orthodontic treatment to maximise their chances of success. Depending on your case, an open or closed coil will be placed before your braces are installed.
This lets your teeth shift as the treatment demands while ensuring space is left to restore your lost tooth.
Braces not only improve tooth alignment for patients with missing teeth but also make it easier for your Norlane Dental Aesthetics and Implants dentist to replace your missing teeth.
At Norlane Dental Aesthetics and Implants, we work with you to craft an orthodontic plan that considers your absent tooth or teeth, any other existing dental or health issues, and how you plan to replace your teeth.
This helps us map out a future of improved appearance and oral health. Braces are used before tooth replacement; after your existing teeth are straightened, you can have replacement treatment.
A Straight Smile – with New Teeth
After braces have optimised your tooth alignment and any other dental issues have been controlled, it is time to go forward with tooth replacement, which partial dentures, bridgework, or implants can accomplish.
You will still need to wear retainers like most orthodontic patients do.
The course of your treatment can seem long – particularly if you choose braces and dental implants; dental implants can take months to complete, even after orthodontic treatment.
However, it's worth the wait, and you are never too old to have the smile you want and deserve! At Norlane Dental Aesthetics and Implants, if you have misaligned and missing teeth, we have the treatments to repair and replace them!
Learn more about Smile Design Norlane.
Quality Dentistry in Norlane
Norlane Dental Aesthetics and Implants believes everyone deserves the highest quality dentistry, and our goal is to help you receive it.
We are a multi-surgery practice in operation for over 30 years, taking care of the varied oral health needs of the Norlane community.
Visit your Norlane dentist today!
Call us on (03) 5278 2666 or make your appointment online.
See us at 21 Princes Highway in Norlane.