Dental Tips: Over-the-Counter Whitening vs Professional Teeth Whitening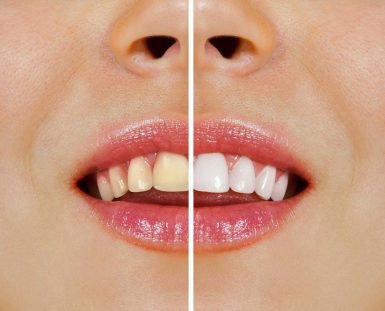 A quick survey of the oral health section of the local pharmacy or grocery store can be overwhelming.
Almost every product claims to whiten teeth, quickly and conveniently.
This leads some patients to ask us, "Do you have to visit the dentist Norlane to obtain white teeth?
At Norlane Dental Surgery, we believe the best and safest whitening is always performed in our offices.
Over-the-Counter Products
Whitening rinses. They're simple to use, only requiring a short swirl in the mouth.
Because they are only in contact with the teeth for a short time – just two minutes a day – they have less of an effect.
They work very slowly, sometimes taking up to 12 weeks to see results.
Whitening toothpaste. These kinds of toothpaste contain ingredients that remove surface stains and may provide gradual brightening.
When used twice daily, whitening toothpaste can take from 2 to 6 weeks to whiten.
However, whitening toothpaste can't change the natural colour of your teeth or lighten a stain that goes deeper than a tooth's surface.
In addition, some people end up with sensitive teeth while using these products.
Gel strips. You usually stick them to your teeth once daily for up to 2 hours. Depending on how strong the strips are, you may need to apply them for 10 to 20 days.
These strips are generally safe. It is important to use strips only as directed on the package, and if they cause gum irritation, stop using immediately.
The other risk is swallowing small amounts of whitening ingredients, which can cause stomach upset and even poisoning. Also, they generally only work on the front six teeth, leaving molars dark and dingy.
Whitening trays. These trays are filled with whitening gel and placed over the teeth up to twice daily.
They are the quickest over-the-counter treatment, but because they are not custom-made, they can rub and irritate gums.
Furthermore, the gel can leak out, causing irritation to the gum and stomach (if swallowed).
Professional Teeth Whitening: Safer, Quicker, Longer-Lasting
When you visit our professional dentists at Norlane Dental Surgery for your teeth whitening needs, you get more reliable, brighter, and longer-lasting results than you would at home.
This is for several reasons.
We have better equipment. Visiting Norlane Dental Surgery for your teeth whitening procedure means that you will have access to the most technologically advanced and effective teeth whitening Norlane equipment. Using high-grade dental tools dramatically increases the chance of better whitening in an environment that is controlled and safe.
Higher-grade bleaching products yield faster results. Professional teeth whitening solutions often contain twice as many bleaching ingredients, and some also utilise a special light to facilitate whitening.
More effective and longer-lasting. OTC solutions have a limitation on how far they can go, usually only whitening your teeth a few shades, while professional whitening can whiten up to 8 shades! The effects of OTC solutions are also often short-lived.
Reliability and quality control. This is among the most important points. No teeth whitening is permanent, but professional whitening can last up to two years, while OTC kits may have effects that last as little as two weeks! Finally, your Norlane Dental Surgery dentist keeps track of quality control and safety both during treatment and afterwards.
Although teeth whitening is fairly safe, there are increased risks associated with OTC teeth whitening. This includes tooth sensitivity, damage to your gums, and the risk of swallowing the whitening agent. In fact, bleaching agents can cause irreversible damage to your teeth and gums. When you visit Norlane Dental Surgery for your teeth whitening, these risks are minimised. We have a better understanding of the procedures at hand, along with extensive knowledge of the products and tools we are using.
If you choose in-office tooth whitening, you can leave our offices, after only one treatment, with a smile that is up to 8 shades whiter. OTC products can come nowhere near this mark.
Smile makeover at Norlane Dental Surgery
Dental Health Now at Norlane Dental Surgery!
Experience advanced dentistry and patient-friendly care you can trust. Visit your dentist at least every 6 months to ensure optimum oral health.
At Norlane Dental Surgery, we believe everyone deserves excellent quality dentistry, and our goal is to help you achieve this.
Norlane Dental Surgery is a multi-surgery practice that has been operating for over 30 years taking care of the oral health needs of the community.
At Norlane Dental Surgery, our focus remains on providing patients with exceptional general, orthodontics and Implant dentistry.
We have a particular interest in implants, orthodontics and smile rejuvenation via veneers and crowns and bridges, while also dealing with the unexpected dental emergencies we all dread.
If you would like to know more about us, please contact us now for a consultation.
FREE Smile Makeover Consultation in Norlane
Call us on (03) 5278 2666 or book your appointment online. We look forward to meeting you!
We are located at 124 Sparks Road in Norlane.
NEED ADVICE? JUST ASK US A QUESTION.
(replies during business hours)
Book Your Dental Consultation Today!
We accept EFTPOS, all major Credit Cards as well as HICAPS, MBF, Medibank Private, HCF & All major health funds.
OPENING HOURS

Mon: –
Tue-Fri: –
Sat: –
Sun: Closed
PARKING/PUBLIC TRANSPORT
There is ample free car parking onsite
Norlane Geelong dentist also serving local communities in Geelong, North Geelong, West Geelong, East Geelong, South Geelong, Corio, Lara, North Shore, Highton, Belmont, Little River, Newtown, Armstrong Creek, Ceres and Grovedale.